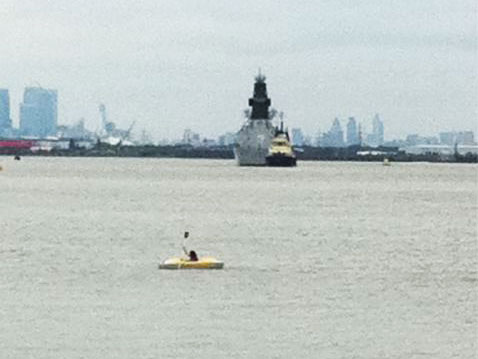 Today, HMS Dauntless was disrupted en route to the world's largest arms fair by protesters angry at a trade that inflicts untold misery and death across the planet. Protesters manoeuvred kayaks in front of the ships to prevent them gaining access to Royal Victoria Dock.
At a time of austerity and government cuts, East London will be hosting Defence Systems Equipment International (DSEI) from 13th – 16th September, with much of the cost borne by the taxpayer.
Every 2 years the ExCeL centre in London's dockyards welcomes dictators, arms dealers and suspected war criminals in an attempt to persuade them to buy British weaponry. Many of the weapons used by dictators to kill demonstrators during the Arab spring were procured from DSEI exhibitors.
This year DSEI falls on the 10th anniversary of the 9/11 attacks that killed nearly 3,000 people. It is worth remembering that (according to the British Medical Journal) nearly 400,000 people die every year from armed
conflict.
A spokesperson for Disarm DSEI stated "The same politicians that shed crocodile tears for the 9/11 victims are fuelling the fires of war and armed conflict around the world. It is up to ordinary people to intervene to stop the obscene traffic in arms. DSEI, the world's largest arms fair, must be stopped."
This is just one action in a concerted campaign. Protesters have vowed to disrupt DSEI throughout the week, including a day of action on the 13th to blockade the DLR and prevent delegates attending the event.
For further information and pictures contact – 07592 769 907 or 07415 810 637
Notes for Editors:
Several warships will form part of this year's DSEI – hosting receptions and showcasing military technology, including HMS Dauntless, the pride of the British Navy.
Over 1200 arms companies will be selling their wares to 25,000 buyers from around the world, including military delegations from some of the world's most repressive, human rights abusing regimes.
DSEI is held in Newham, one of London's most impoverished boroughs. Whilst the government has subsidised DSEI by £320,000 and paid up to £4million for policing, Newham council are being forced to cut
£116 million from their budget over the next four years.
For years leading up to the "Arab Spring", arms companies have exported equipment to the regimes which are now being condemned by governments rapidly backtracking on their support. A report issued in April this year confirmed that since 2009 the UK have exported components for military helicopters to Algeria, sub-machine guns and tear gas to Bahrain, machine guns to Egypt and hand grenades to Jordan. British defence contractors have also sold small arms ammunition to Syria, hand grenades, sniper rifles and tear gas to Saudi Arabia and shotguns to Morocco.