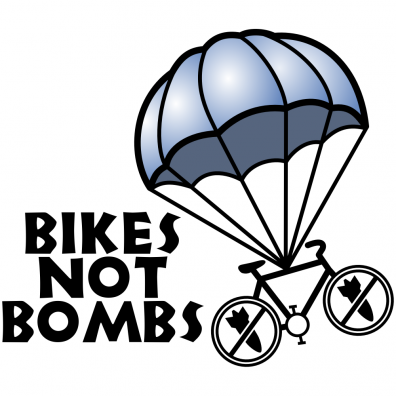 Join this Critical Mass bike ride to the ExCeL Centre in London's Docklands, where there will be a day of action against the DSEI arms fair. Bring noise, colour and defiance.
Attended by thousands, the DSEI arms fair feeds an ever-increasing number of wars, destroying entire societies and creating tidal waves of desperate refugees.
With more than 1,000 companies and 30,000 attendees, it includes many governments with appalling human rights records.
This event is part of a big day of action at the end of a week of blockades against the setting up of DSEI. The different days have different themes:
Monday Sept 4: Stop Arming Israel
Tuesday Sept 5: No Faith in War
Wednesday Sept 6: Anti-nuclear Action
Thursday Sept 7: Solidarity Without Borders
Friday Sept 8: Conference at the Gates
Saturday Sept 9: Big Day of Action
For more info, see Stop The Arms Fair.